THE BOOKS
The China Dream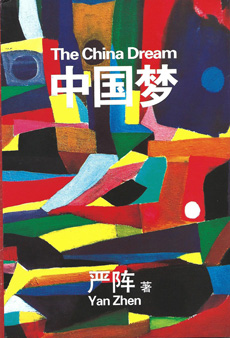 The China Dream features the translation of a collection of 14 Chinese poems by Yan Zhen, a famous Chinese poet and painter. The format Chinese use when publishing a book that includes the originals and translations does not feature the translator's name on the front cover, but just focuses on the author, so the cover of this volume does not mention that the poems were all translated by John Byron, under his real name Roger Uren.
The poem "The China Dream", which was selected as the title of the volume, offers a unique view of Chinese society and culture today, and the impact of materialism on the Chinese psyche.
The opening lines reflect this:
"We need a new dream,
A new China Dream
Are you fortunate?
I am fortunate,
I am more fortunate than at any other time,
But good fortune is not only
Having a room,
Having a car,
Having a piece of land.
Are you beautiful?
I am beautiful,
I am more beautiful than at any time,
But beauty is not only
Trimming my eyebrows,
Dying hair,
Making up my face
We need a new dream,
A new China Dream."
This long poem combines his political perspective with the fundamental beauty of poetry and thus promotes today's sense of beauty and spirituality. This poem has received positive reactions in Chinese society and on the international stage, and the phrase "China dream" is now recurring feature of Chinese political rhetoric.
Yan Zhen was born in 1930 in Shandong Province, and at the age of 15 he joined the Chinese liberation movement, and published his first volume of poetry nine years later. Many of his poems were filled with both patriotism and a blend of aestheticism and romanticism and became very widely known. In 1985 he was a member of the first delegation of Chinese writers who went abroad after the end of the Cultural Revolution, and visited America and gave speeches at a number of universities, introducing the early phase of China's reform and opening up movement and encouraging cultural exchange between China and the outside world. After returning to China he wrote, Doves and Tulips, which opens a window on America for the Chinese people during the early phase of the reform movement.
For a long time, while he has been working on literature Yan Zhen has also been painting. He has created Chinese art works, but he has also produced many oil paintings. His art works are different from the main-stream, and instead of pursuing life-like images of the physical world he focuses on the expression of feelings and emotions. He combines the marvelous style of Chinese water color painting with the three dimensional realism of Western oil painting into a single form of art, and fills his art with both a sense of Western realism and Eastern mysticism. His paintings can be seen online at www.yan-zhen.com.
The China Dream was published by the Chinese Writers' Press in 2014.
---
© John Byron - 2019